We need the EU, but the EU needs Serbia, too!
25. July 2017. | Belgrade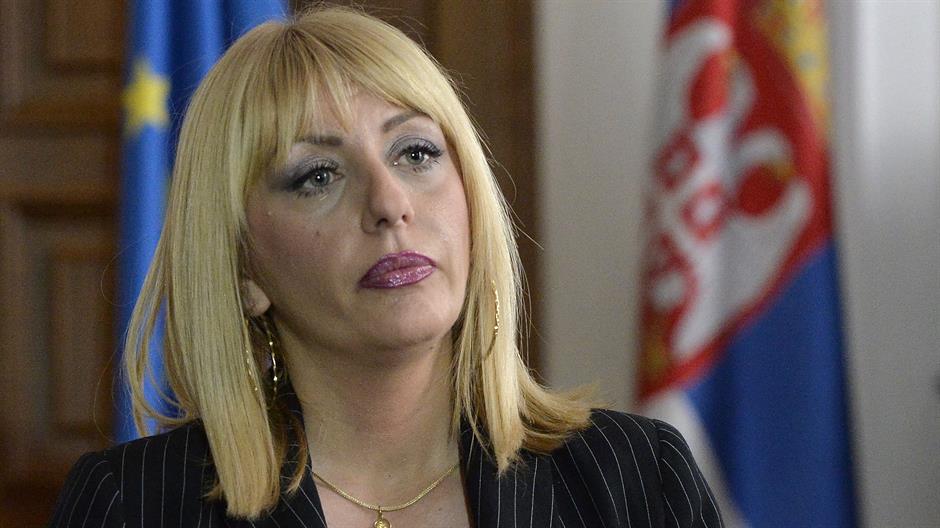 In an interview for Alo! daily, Jadranka Joksimović, Minister of European Integration, reveals whether the door of the European Union will be closed for Serbia after we complete the entire process of European integration, and whether Kosovo will pose an obstacle at the end of that road. She also discloses with whom she works best in the Government, and with whom in the Serbian Progressive Party, while also giving her estimates on when we will finally be ready to become a full member of the European Union.
President of Serbia Aleksandar Vučić has launched an initiative for obtaining a provisional date for EU membership, and no official has said anything specific so far - how do you comment on that?
- That is a legitimate question on our side, Vučić estimated the moment for that quite well. We have our plans, as well as obligations regarding what we have promised to our citizens. Many previous governments were promising the membership in 2004, 2007, 2009, 2011, and we opened the official negotiations in January 2014. Therefore, we need a more precise timeframe, whatever it may be, so that, based on the needs of negotiating transitional periods for changing standards in certain areas, such as agriculture, environmental protection, food safety etc, we could plan not only activities, but also the budget. This is why we are interested in what the EU is planning, once we have become fully prepared. I think Tusk gave a legitimate answer - when you are ready, the door of the EU will not be closed. Or, it will be opened, this probably sounds better. The point is the same.
Donald Tusk stated that the dialogue with Priština must be completed before obtaining the date for membership - does this mean that Kosovo will eventually be the issue of all issues relevant to Serbia's EU membership?
- It is realistic that the dialogue with Priština and the implementation of the agreed will be monitored in parallel with the overall process of negotiations on other reform chapters. This is also laid down in the Negotiating Framework for Serbia. According to our latest survey, our citizens, 59% of them, believe that the dialogue should be continued, regardless of our process of negotiations with the EU, because they are aware that frozen conflicts burden the entire society. The problem is that the EU wants to see this dialogue as an ideal-type model of negotiations, where everything will run smoothly, where nothing could undermine what has been agreed, and just look where we are with regard to CSM almost two years after the agreement.
What messages are you getting from European officials?
- Messages of understanding the importance of Serbia for completing the geopolitical, geoeconomic, as well as security concept of the EU. At the same time, we are getting messages on the necessity of implementing all required reforms, which is alright, because I always like to emphasise that we are doing it for our own sake, for the sake of our citizens and our country, for a better present, but also for a better future. We have shown that we are a committed candidate country, that we have good results in many areas, and also a clear political will for partnership with EU countries. Furthermore, we have an important, but not always a rewarding and not always an easy, role in promoting and maintaining regional stability, which is very important for EU countries as well.
When will Serbia be fully prepared for the membership?
- We know what our job is with regard to what we have promised to our citizens, and that is to implement reforms, whose results are also reflected in the fulfilment of opening benchmarks for chapters. Our plan is to be fully prepared, i.e. to adopt all EU standards and the EU acquis, by the end of 2020−21, which does not mean that these will be the years of accession. This is also the period when a new financial and budget perspective of the EU will be created, and that is why it is important for us to be prepared. Because, when you close all the chapters, the Member States must then ratify the Treaty on Accession in their respective parliaments. Some even hold a referendum on the matter. We can also hold a referendum then. The point is that we bring European standards and the EU to Serbia.
Will we have to amend the Constitution and remove the preamble from it before the EU accession?
- I do not understand the whole drama about amending the Constitution. There are realistic reasons for amending the Constitution in some segments, in particular with regard to the manner of appointment of judges and prosecutors, which is also a part of the Action Plan for Chapter 23. This is a concrete matter related to the improvement of the efficiency and independence of the judiciary − I believe this is unquestionable and in the interest of every Serbian citizen. I do not know why everyone mentions the preamble as the "hidden reason" for changing the Constitution. Certainly, when you want to change the Constitution in some segments in our system, that always opens a public debate on other important issues, because the Constitution is the supreme legal, as well as political, act of a country.
What does working in the Government, as well as the Government itself, look like without Vučić, from your point of view? Will Prime Minister Brnabić manage to maintain the ironclad discipline in the Government that Vučić established?
- The Government is working well, those are mostly the ministers and the people who worked in the previous, i.e. Vučić's, government, with some minor changes. Vučić is a man who, with his commitment to work, has set certain standards and pace, and Ana was a minister in his government, therefore, we are very well coordinated and familiar with the work. Be that as it may, I am a person who does not need pace or discipline imposed, because that is what I demand from myself and from others as well. I have always been like that − your character is your destiny.
What does the model 'Dačić is a political, Brnabić an economic Prime Minister' mean in practice?
- There is only one Prime Minister, not two. Politics and economy are inseparable, inter-dependent and inextricable. As ministers, we all deal with both politics and economy in our line ministries and this is also how we work with the Prime Minister, who directs and integrates our work.
If you had to choose one person from the EU who is Serbia's greatest friend, who would that be?
- In politics and in international relations it is important to recognise strategic interests, as well as your own interests and the interests of others, and to identify the moment when your interests match, because that is when you have a win-win situation for all. Friends are those who work on matching their interests with ours because it is in their interest, too. There are many such people both within EU institutions and among politicians from the Member States. That is good for Serbia.
How do you comment on the division among the public, within the Government and at almost all levels regarding the issue - Russia or EU?
- It is my strongest belief that people in Serbia are interested in leading a better life, stability, peace and prosperity. No division should exist there, whatsoever. The latest survey shows that 49 percent of Serbian citizens absolutely see the EU as the best way to achieve all that, 24 percent has no definite opinion on the matter, while 27 percent is against. I think this shows a clear orientation of the citizens towards European integration. You can favour certain countries and peoples, for any number of reasons, but we should look after our own interests, just as everyone else looks only and exclusively after their own. This is what successful societies do.
What has changed in your work since you officially obtained the portfolio?
- Not much. Even before the Ministry of European Integration was established, I had been coordinating and had been politically responsible for the work of all institutions responsible for European integration. In addition, I was a coordinator of programming of all pre-accession funds and development assistance, which is the function I perform now as well. This is important, because we annually receive from the EU around EUR 200 million in grants intended for reforms in various sectors. We also have cross-border cooperation programmes that enhance development at the local level, programmes of support to underdeveloped municipalities, regional projects for Western Balkan connectivity etc. These are important matters I have been dealing with for years, along with the negotiations and the political role that I have. Now we have a clearer and better coordination, because if you bear a political responsibility for something, you will naturally have a clearly structured framework. Structure follows the work, not the other way around.
Do you expect that, after the 2019 congress, the Serbian Progressive Party will get a new leader or do you think that Aleksandar Vučić should remain on that position?
- I expect that Aleksandar Vučić will again be president of the Serbian Progressive Party. I do not see any reason for him to withdraw.
Which of the Government ministers do you get along with best?
- Professionally or personally? (laughter) Sometimes personal affections give way to professional disagreements and vice versa. I have noticed that Goran (Knežević) chose me, so I am genuinely returning the gesture.
Who do you get along with best in the Serbian Progressive Party?
- The Serbian Progressive Party is a huge party, I have many friends there. However, Vučić is the one I have known the longest and we perfectly understand each other, even when we do not agree on everything. Many do not know this, but he is a person who listens to different opinions, even when you are really annoying him, and gives serious consideration to what he has heard. That is a great and rare trait in a politician.
Source: Alo!