Joksimović and Chepurin on EU integration, region and international relations
25. July 2017. | Belgrade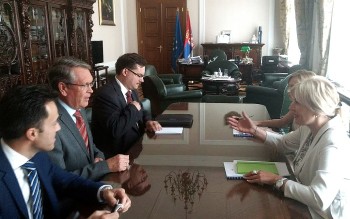 Yesterday, Minister of European Integration in the Government of the Republic of Serbia Jadranka Joksimović and Ambassador of the Russian Federation in Serbia Alexander Chepurin discussed the relations between the two countries, the process of European integration and reforms that are being implemented within that process.
During the meeting that saw discussions on the situation in the region and other important topics, Joksimović underlined that EU membership was Serbia's strategic orientation, stressing that it was not favourable to create an atmosphere where our country was constantly under pressure to declare its position.
The Minister reiterated that our strategic goal was clear, and that was European integration, pointing out that such orientation had been confirmed by the most recent opinion poll, according to which 49 percent of citizens clearly supported the country's European path.

Joksimović emphasised that it was in the interest of Serbia to maintain and preserve good political and economic relations with the Russian Federation, as well as with all other important global forces, all in the context of complex international relations.
She reiterated that Serbia highly appreciated Russia's principled support with regard to Kosovo and Metohija.
Joksimović presented Serbia's process of European integration to Ambassador Chepurin. The Ambassador stressed that the Russian Federation appreciated Belgrade's efforts to preserve good relations with Moscow, in the context of complex international relations.

As regards the situation in the region, Joksimović and Chepurin agreed that cooperation was a prerequisite for its stability and development, and that everyone should show genuine commitment to that goal.
Joksimović highlighted that Serbia had unequivocally demonstrated that it was a promoter of regional cooperation, thus actively contributing to stability − which was important for the EU and beyond.