Serbia key country in the region
10. July 2017. | Belgrade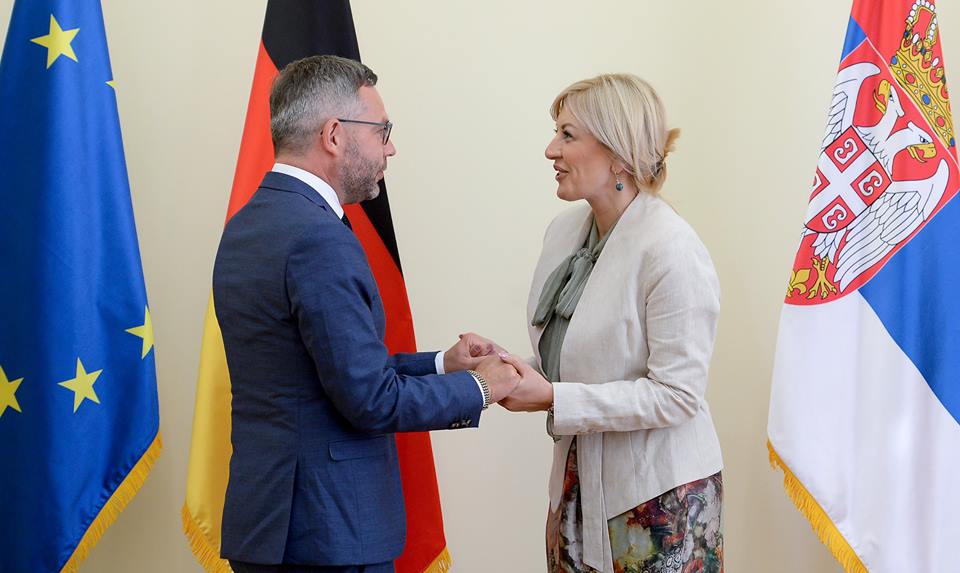 Minister of European Integration Jadranka Joksimović has spoken today with Minister of State for Europe at the Federal Foreign Office of Germany Michael Roth about the relations and further cooperation of the two countries and European integration of Serbia.
The officials also discussed the reforms being implemented in the process of integration, the situation in the region and other important topics.
Joksimović thanked Germany as an important strategic partner on significant support and assistance it had been providing to Serbia in the EU accession process.
The Minister pointed out that such relation was confirmed by the fact that Germany was our largest bilateral donor, since it had allocated EUR 1.6 billion for various projects in the previous 15 years.
She reiterated that Serbia would be a credible and reliable partner of the European Union in the upcoming period, noting that it would continue to closely cooperate with the EU on resolving issues important for the EU, including the migrant crisis.
Joksimović pointed out that European integration was Serbia's strategic goal and that the reforms being implemented in the EU accession process served the overall development of the country.
In that context, the two ministers emphasised the importance of working on Chapters 23 and 24 that were related, inter alia, to the rule of law and fight against crime and corruption, as being important factors for further progress in European integration.
Minister Joksimović emphasised that Serbia advocated cooperation in the region as it was a perquisite for peace, development and stability, expressing her expectation that others would also recognise the importance of the said values and really contribute to their affirmation.
Furthermore, the ministers noted the importance of the upcoming Western Balkans Summit to be held in Trieste within the framework of the Berlin Process, where once again a clear message should be sent on the importance and necessity of stability and cooperation in the region, particularly with regard to the implementation of regional infrastructure projects.
Joksimović reiterated that Belgrade was firmly committed to continuing the dialogue with Pristina and to the full implementation of the Brussels Agreement, underlining the importance of establishing the Community of Serb Municipalities.
Expressing his belief that Serbia is the key country for the stability of the region, Roth noted that Serbia was also a reliable partner both to Germany and to the European Union.
He emphasised the importance of continuing and accelerating the dynamics of the reform processes, especially in the area of the rule of law, which in turn would lead to the acceleration of the dynamics of accession negotiations and Serbia's progress towards the EU.
Wishing Minister Joksimović much success in her work, Roth underlined the importance of the establishment of the Ministry of European Integration for the continuation of the EU accession process.